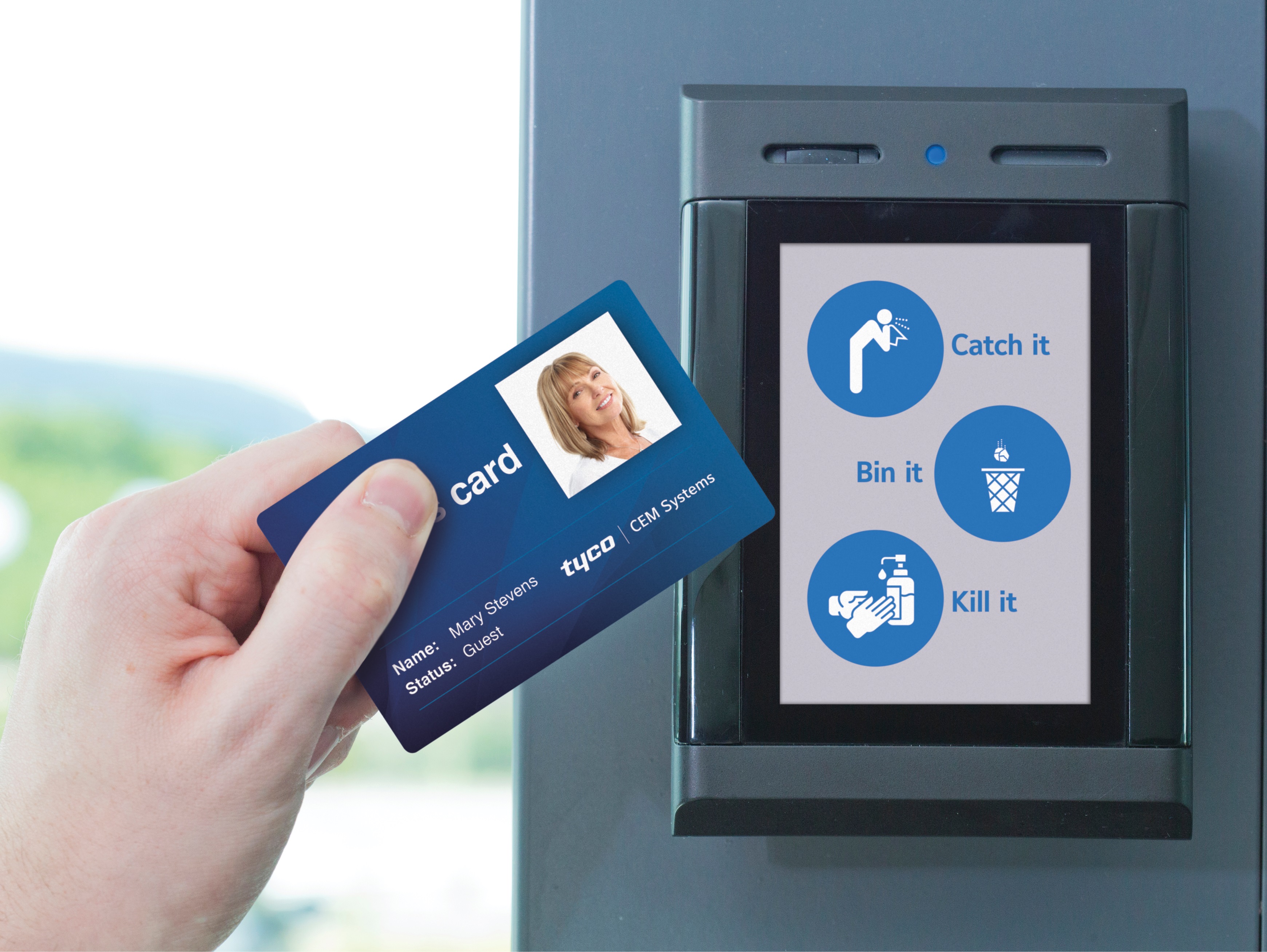 In 2012 CEM Systems emerald terminal was released to the market with the message "A world of possibilities at your fingertips". It's a cliché but it really was a game changer in that we were releasing a smart intelligent device that had the possibility to go beyond just access control measures to add value to other business functions. Eight years on and it's good to take a look at how some of our customers within key sectors have embraced the possibilities of emerald beyond security to improve their site health & safety.
Philip Verner, Sales Director, Tyco-CEM Systems
Did you know that emerald access control terminals can be used to assist with site health & safety regulations and employee certification date checks? Here's how…
emerald terminal offers customers the use of intelligent door modes and a range of smart applications' directly at the door. To assist with site health & safety there are three terminal modes / "apps" that are proving highly beneficial.
1) emerald checklist mode.  emerald can ask credential holders a series of informative and auditable questions that they must answer before gaining entry to a controlled area/zone. For example "Are you wearing your safety boots?" or "Have you received your permit to work"? The selections made by users using checklist mode are then stored on the AC2000 server for future reporting and compliance checks.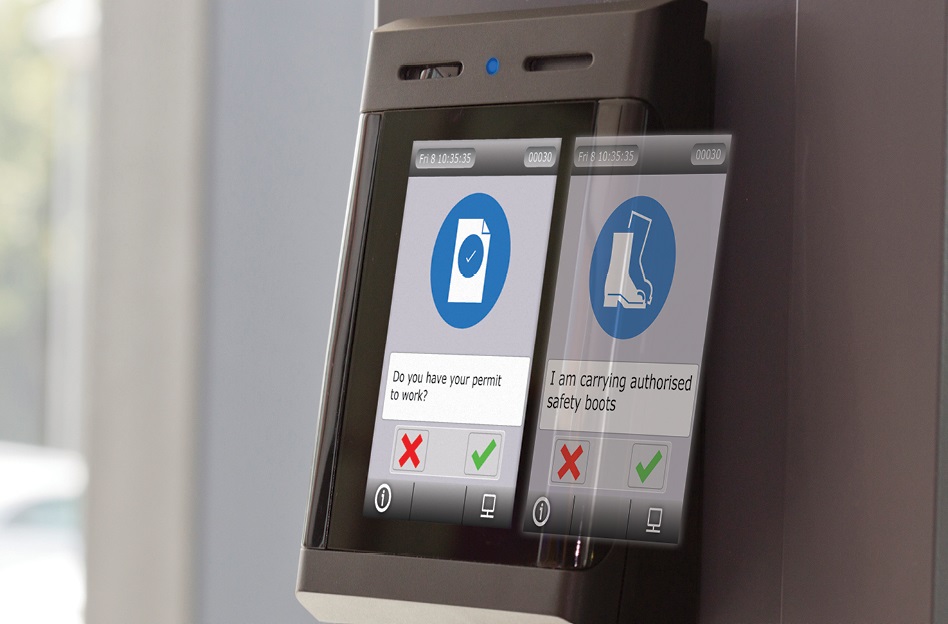 TIP 1 – emerald checklist mode for health & safety
2)emerald multi-date check. The AC2000 access control system provides card validity checks as standard, but emerald's "multi-date check mode" takes this a step further by checking the validity of additional criteria above 'card valid' such as training certificates or work permits that might be required on site. These additional checks are user configurable by our customers and so can be used for many purposes such as managing permits to work or health and safety training certificates. When applied, multi-date check monitors the validity of these additional checks and provides cardholder's with status updates on the emerald display screen such as "Health & Safety certificates: About to Expire".
Optionally, using emerald multi-date check, a cardholder's access to an area can be denied if the additional date check (such as 'Permit to Work' certificate) has expired or lapsed. Detailed reports can also be run on expiry dates, to proactively ensure that personnel certifications and permits to work always remain up to date.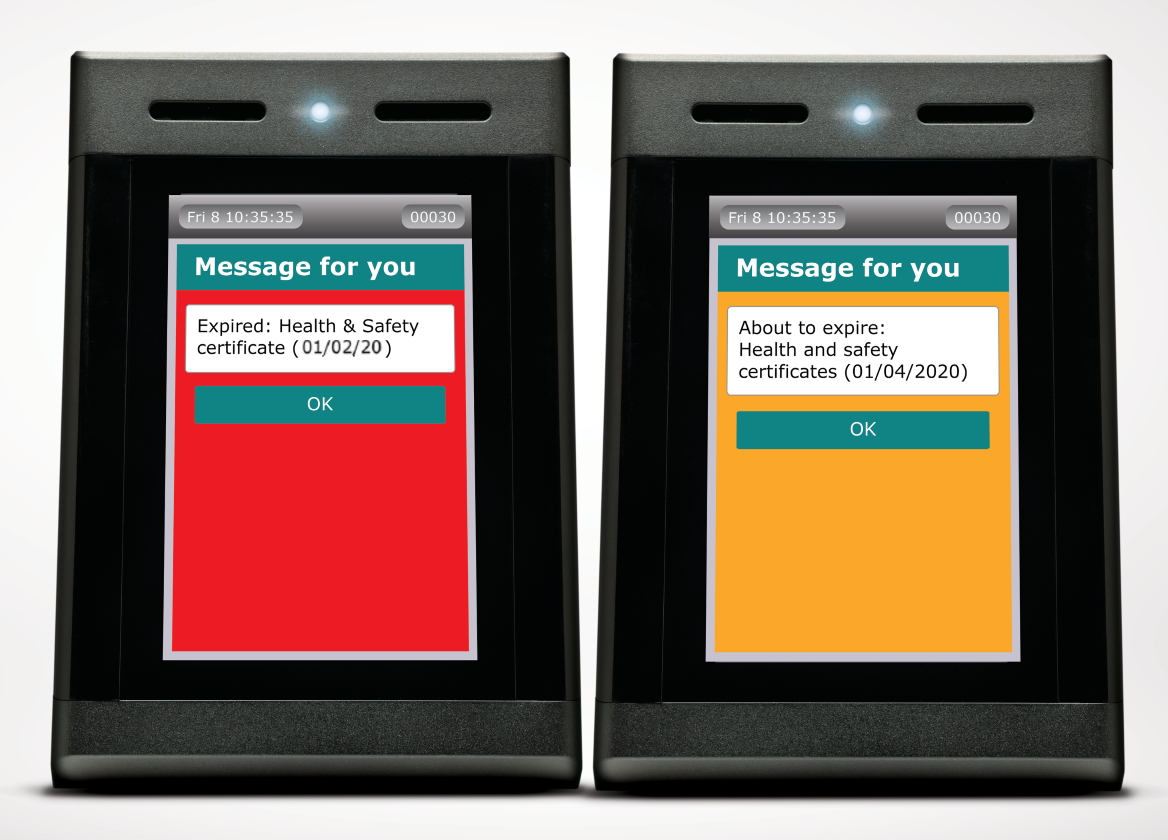 TIP 2 – emerald multi-date check mode
3)emerald adverts. emerald can also be used to display informative health & safety or HR messages and adverts to encourage good employee 'behaviours' in line with company procedures. For example "Please remember to wash your hands" or "Facial recognition area in operation".
Find out more about the emerald devices by contact your Net-Ctrl Account Manager – alternatively, please use the Contact Form or call us direct on 01473 281 211.