Healthcare networks can get more from a turnkey infrastructure solution
The Internet of Things (IoT) is revolutionizing countless industries, enabling more advanced automation and improved granular control of all types of IT and OT applications. These include lighting, security systems, and HVAC operation. While almost every industry can benefit from the IoT, healthcare offers a particularly diverse set of use cases.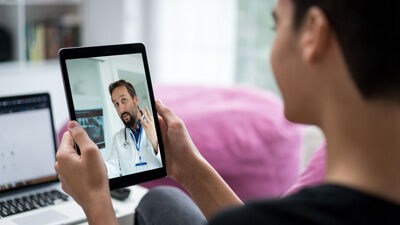 While this makes for an exciting future for the evolution of healthcare networks, it also introduces a daunting level of complexity that can easily keep a medical organization from fully realizing operational efficiencies, enhanced security and expanded capabilities made possible by the IoT, or as it's often referred to in the context of healthcare networks, the internet of medical things (IoMT).
IoMT brings a dizzying diversity of applications
Few commercial spaces can even approach the type of data processing needs of a modern healthcare institution or hospital. The fast and dependable movement of information is mission-critical, physical and data security must both meet strict regulatory standards, widely distributed staff and patients require far-reaching connectivity, and both inventory and equipment must be closely managed.
Consider some specific examples of the devices that address these needs:
IP-connected security cameras and sensors throughout a facility
Digital signage to direct patients and visitors to their destinations
Bed alert and wander management systems that keep patients safe
Network-driven in-room information and entertainment access
Patient call buttons and panic alarms to ensure help finds its way quickly
RFID-powered inventory management to ensure stocks are adequate and audits are simple
Building automation that controls card-access door locks and environmental systems
Automated infrastructure management (AIM) software that monitors and secures all network connections in real-time, automates alarms and manages all network documentation in real-time to secure data and protect patient privacy
Looking at all of these functions, applications, and services, it seems an almost impossible task to integrate so many different types of connectivity onto a single network infrastructure. Yet, that's exactly what CommScope delivers to healthcare networks all over the world.
A turnkey network infrastructure that is simple, reliable, and adaptable
With so many moving parts, and IoMT-enabling network can't afford to be a piecemeal solution. Cobbling together a patchwork of infrastructure technologies not only degrades overall performance, but also increases the time and trouble of installing it. Since medical facilities and their sterile areas are difficult places to install network infrastructure—opening ceilings and walls often requires shutting down necessary and profitable parts of the facility—a simple, turnkey solution can help get your network investment to positive ROI sooner.
A complete range of integrated solutions for complete confidence
CommScope is trusted the world over for our high-quality, high-performance fiber-optic and copper infrastructure. We also offer the RUCKUS portfolio of enhanced Wi-Fi solutions, all designed and built for out-of-the-box interoperability.
With CommScope, a single-source turnkey network infrastructure solution can unlock the full potential of the IoMT in less time—and for less cost—than a complex, multi-vendor alternative. Here's why:
Every CommScope infrastructure solution comes with Application Assurance, guaranteeing it will meet application requirements for uptime and performance.
Our imVision® AIM solution provides you with the visibility into your network to assure you those SLA markers are being met, and that data security regulations are being fully observed.
As a comprehensive solutions partner, CommScope can deliver a complete upgraded infrastructure that speeds up deployments, eliminates interoperability challenges and simplifies procurement.
CommScope's global manufacturing footprint ensures that we can deliver the technology your network needs, anywhere in the world, in the quantities required—without compromising on manufacturing quality.
Our worldwide network of partners (including local designers, planners, installation and support experts) are ready to help expedite your deployment and maximize your ROI sooner.
Learn more about how CommScope's turnkey infrastructure solutions can unlock more IoMT efficiencies and benefits for your healthcare network.