RUCKUS® Analytics from CommScope is a cloud service for network analytics and assurance. Powered by machine learning (ML) and artificial intelligence (AI), RUCKUS Analytics helps customers get the most from their network.
RUCKUS Analytics—customer success right from the start
From the time RUCKUS Analytics was released in March 2020 (with a public announcement in April), the service has been immediately, measurably and dramatically impacting our customers' support operations. WiFirst is a leader in Wi-Fi and fiber connectivity solutions trusted by thousands of customers across Europe to provide high-quality, robust networks. Emeric de Bernis, engineering manager at WiFirst, said, "As a service provider with high skill in WLAN network, our success depends on meeting customer SLAs and efficiently managing to those SLAs. That means quickly addressing issues that arise in a network. Unfortunately, it's often difficult to pinpoint the exact cause. We were facing just such a scenario and, during weeks of troubleshooting remotely and on-site, we struggled to find the root cause. Turning on RUCKUS Analytics leads us very quickly to a potential problem on another element in network infrastructure causing roaming issues. This new tool makes our support operations dramatically more efficient."
The power of RUCKUS Analytics lies in the ability of the system to automatically detect network incidents without any human intervention. No rules, no thresholds, no conditions need to be specified by IT. Incidents are automatically generated and categorized at the appropriate severity. RUCKUS Analytics generates about 80,000 insights every day. Root cause and recommendations are generated automatically for the IT team to address the situation. We call this "practical AI." It is not humanly possible to analyze massive amounts of data and separate alerts, false positives, noisy alarms, and events from real thorny issues that have operational impact.
RUCKUS Analytics 2.0 delivers even more powerful network analytics
The latest release of RUCKUS Analytics really raises the bar on wired analytics. Within hours of pushing RUCKUS Analytics 2.0 into production, we heard from our customers that features like automatically flagging VLAN mismatch would save days (if not weeks) of IT workload. With an ever-increasing demand for PoE devices like cameras, Wi-Fi access points (and, yes, Wi-Fi 6 access points) and VoIP phones, switch PoE budget is under stress and incidents of switch PoE exhaustion are on the rise.

This screenshot shows the RUCKUS Analytics VLAN mismatch insight
RUCKUS Analytics also monitors switch memory utilization. Powerful algorithms dynamically baseline the memory usage of an individual switch, flag anomalous operation and predict a failure date if current memory usage continues. These situations, if unaddressed, can cause brown-outs and unplanned network downtime.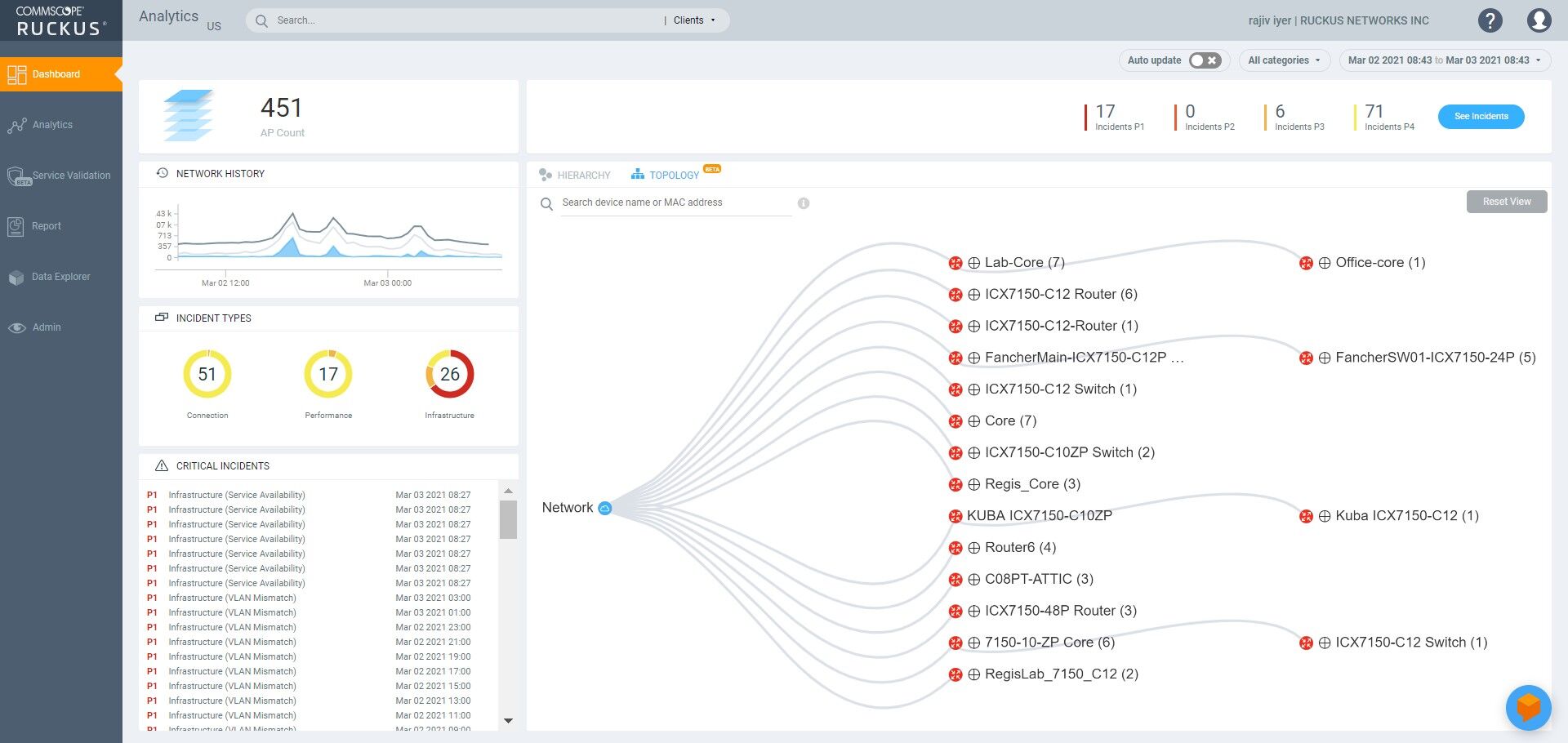 This screenshot shows the RUCKUS Analytics interactive network topology
The interactive network topology view gives a physical connection diagram for the network and useful information like the vendor name, switch model and version.
Network service validation, virtual network assistant and ITSM integration see strong uptake
More customers are now using the service validation feature to test their network readiness from the inside out. Service validation uses synthetic test traffic from Wi-Fi 6 and Wi-Fi 5 (wave 2) access points to test WLAN, LAN and WAN connectivity. Our multi-dwelling unit (MDU) and school customers have used this feature to great effect. It is powerful to know the network in a classroom is ready for an upcoming reopening or test. We are also seeing our virtual network assistant, Melissa, serving more customers and helping answer questions about the health of the network, the most popular applications, or the busiest SSID on the network now or in the past week. Natural language processing (NLP) technology powers Melissa and returns real-time answers. The fun part of this is that Melissa learns and grows smarter with every question asked and answered.
RUCKUS Analytics is a go-to helpdesk solution for IT because it integrates with ServiceNow (and Salesforce, Slack, Zapier.io, etc.), and automatically creates and updates service tickets using Webhooks integration. Customers love this approach because there is no hardware to install and there is no maintenance overhead.
RUCKUS Analytics is transforming IT practices
Customers around the world are adopting RUCKUS Analytics and seeing the benefits of practical artificial intelligence, automation, and transforming IT practices from reactive to proactive. Check out RUCKUS Analytics, read the 2.0 release notes, request a live online demo, start a trial or drop us a line.