Kantech – Access Control Security Management Systems
Kantech (part of Tyco Security Products) designs, markets and supports integrated access control technologies that are ready to use right out of the box. Kantech's solutions provide a compact, entry-level solution for smaller businesses while the EntraPass access control software combines with the powerful KT series door controllers to provide enhanced capabilities for enterprise scale applications.
Kantech offers a full suite of access control products that are reliable, easy to install and easily scalable.
Why Access Control?
Nothing is more vital to the health of an organization than making sure that its people, material assets and operations are safe and secure. Access control addresses the full scope of risks that might arise, including risks that other security systems such as burglar alarms and intrusion detection simply are not designed to handle. By preventing people from entering places where they do not belong, access control protects against theft as well as liability and disruption to your operations. Access control can also integrate with other security and operational systems to give you a comprehensive, cohesive management tool.
Tracking Access
One of the biggest advantages that our access control systems offer is the ability to determine quickly who may have gained access to critical areas before and after an incident. Even our smallest, single door applications have reporting available that shows an audit trail of door access activity, while our mid-range and large-scale systems can provide in-depth, user-defined documentation.
Improved Security
Access control enhances security by eliminating the need for keys, which are easily lost or duplicated & disappear when terminated employees fail to return them. By using our access control badges instead, you can quickly & conveniently adjust or delete privileges any time an employee's status changes. If you install our access control software on a networked system, you can even perform these tasks from a remote location. Avoiding the annual expense of re-keying a facility is just one of the many financial benefits you will accrue from investing in an access control system from Kantech.
Visual Verification
Our access control systems let you assign different color badges to identify varying levels of access for visitors, temporary employees, contractors, & regular full-time employees. You can also incorporate photo IDs on badges as an additional measure for confirming that the person using a card is the same person to whom it was issued.
Kantech offers a full suite of access control products that are reliable, easy to install and easily scalable.
EntraPass Corporate Edition
Multiple workstation security management software
EntraPass Corporate Edition is a multiple-workstation software platform that offers the ultimate balance between power and affordability in a network environment.
It offers the flexibility to securely connect controllers directly to the network, as well as over RS-485. EntraPass software is compatible with Kantech IP devices such as KT-1 and KT-400 door controllers, and Kantech IP Link, each of which utilise 128-bit AES encryption to protect communications against compromise.
The software integrates advanced security features, such as the EntraPass go mobile app and the EntraPass web platform. These enable remote and convenient access to common access control, video and intrusion tasks, and reporting. The enhanced user experience makes navigation and operation easy and intuitive.
Key Features:
Supports up to 20 workstations and controls hundreds of thousands of doors
Import/synchronise EntraPass operators and users (cardholders) with MicrosoftTM Active Directory for centralised management
Gain access to doors with a one-time unlock command using the EntraPass go mobile app
Supports up to 50 concurrent logins with EntraPass web and/or EntraPass go
Full integration with exacqVision NVRs, American Dynamics VideoEdge NVRs, and DSC PowerSeries Neo intrusion alarm panels
Integrates with ASSA ABLOYTM Aperio wireless locks for an integrated lock management solution
EntraPass Web
EntraPass web is a remote user platform that allows access to EntraPass security management software from any computer connected to the internet or via a mobile device.
It provides real-time management capabilities for various security-related tasks, including managing and creating cards, locking and unlocking doors, scheduling, requesting reports, and even more access control functionality.
Key Features 
Intuitive design
Monitor, manage, and maintain security system without on-site personnel
One interface for viewing video, operating intrusion system, and managing doors
Configurable to your specific needs for higher productivity
Connect multiple monitors
Complete hardware setup
Watch list alarms and email notifications
EntraPass Go
EntraPass go puts you in control of your security. EntraPass go allows you to remotely control your security system without being tied to a workstation. It enables you to interact with EntraPass security management software using only a few taps on your mobile device. EntraPass go allows you to access a wide range of functions remotely, including the management or creation of cards, the locking and unlocking of doors, and the instantaneous requesting of reports. EntraPass go is available for download on the App Store and Google Play. EntraPass go requires EntraPass Corporate Edition, or Global Edition v6.0 or higher.
Key Features
Convenient and intuitive interface
Manage cards and take a user's photo
Integrates with EntraPass Corporate
Control more than 20 security tasks in real-time
Apple and Android compatible
EntraPass Go Install
The EntraPass go Install mobile app provides easy configuration of KT-1 and KT-400 door controllers by scanning a QR code. It enables you to interact with EntraPass security management software using only one tap and one scan on your mobile device.
Key Features
"Kantech-easy" mobile app for installers
QR code provides MAC address and serial number
Easily associate Exacq video, DSC PowerSeries Neo intrusion panels, and Kantech card readers
Commissioning reports
Automatically save commissioning report with date, time,and technician name for easy retrieval
Store corroborating photos such as door, reader, strike, and video camera in database for future service calls
Store corroborating photos in database for future service calls
Available for free on the iTunes App Store and Google Play
KT-1 One-Door Controller
Single Door Controller
The KT-1 Ethernet-ready one-door controller supports two readers (entry and exit) and can be configured in two user-friendly operating modes. KT-1's Standalone Mode offers basic one-door security using a simple web browser without the need to connect to a host system. Alternatively, KT-1 can be used with the powerful EntraPass security management software to provide more advanced and fully integrated access control features.
One-Touch Setup
With its elegant design and innovative single button enrollment, KT-1 offers installers the ultimate experience in access control installation. Simply provide an IP connection, push the touch-sensitive button and you are done. Power over Ethernet (PoE) KT-1 has flexible power input including support for Power over Ethernet and PoE+ technology. Using a single Ethernet cable, the KT-1 controller connects directly from an Ethernet PoE injector to the EntraPass system. This eliminates the need for a local mains power supply at the door.
Web-based Software Solution
Ideal for small sites that only need basic door security, the KT-1 single-door IP controller features an embedded web server that enables it to operate in Standalone Mode – meaning no EntraPass software is required. Intuitive and responsive web-based software enables you to simply manage and configure your single-door security from anywhere, using a desktop or mobile device.
Easy and flexible installation
The KT-1 controller features a removable terminal clip and is extremely simple to install. Flexible cabling and systemarchitecture using an Ethernet or serial RS-485 port from controller to controller.
Key Features
Supports two readers (entry and exit)
Single capacitive touch button for fast controller enrollment
Flexible architecture with serial and Ethernet connectivity
Highly secure 128-bit AES encryption
Interchangeable connections for easy install or replacement
Flexible power input – PoE, PoE+, or 12 VDC
Choose from single-gang mount (KT-1), or cabinet mount (KT-1-PCB) installation options
DSC PowerSeries Neo panel-topanel intrusion integration
KT-400 Four Door Controller
KT-400 Four-Door Controller
Four-Door Controller
The KT-400 is an Ethernet-ready, four door controller that provides 128-bit AES encrypted communication with the EntraPass security management software. It is a highly secure solution for any business that is conscious of security. The KT-400 can easily be integrated into an existing EntraPass system with other Kantech controllers (KT-1 and KT-300) or can provide the foundation for a brand new security installation.
KT-400 Four-Door Controller with Standalone Mode
The KT-400 single-door IP controller is perfect for compact sites that may only require simple door security. The controller uses an embedded web server to function in Standalone Mode so that no EntraPass software is needed. Our easy-to-use, web-based software lets you administer and organise your single door security remotely, using a desktop or mobile device.
Key Features
Supports four readers and four doors
Supports eight readers and four doors using ioProx
Extended Secure Format (XSF) readers
Flexible architecture with Serial and Ethernet connectivity
Highly secure 128-bit AES encryption
100,000 cards and 20,000 stored events in offline mode
256 outputs (four onboard) provide scalability
DSC PowerSeries Neo panel-to-panel intrusion integration
Double and triple swipe card at reader to activate relay, arm alarm system, lock/unlock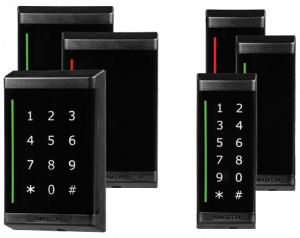 Kantech Readers
Kantech offers a full range of single and multi-technology readers and card options to fit any access control requirements. With smart card, proximity, biometric, multi-technology wireless long-range options, Kantech readers feature intuitive design for ease of use and installation. The entire line of readers are fully compatible for use with Kantech door controllers as part of a complete access control system.
ioSmart
Based on MIFARE® Plus EV1, Kantech's ioSmart Card Readers provide a high level of security by enabling end-to-end encryption between the credentials and the EntraPass access control software. The multi-technology readers also give customers an easy and powerful way to move from proximity cards to advanced smart card technology, whether they are using the popular Kantech ioProx solution or another proximity system.
Versatile, Time-Saving Design
Unlike other solutions on the market that use restrictive, proprietary technology, ioSmart's open technology offers versatility. Based on MIFARE® Plus smart technology for readers, and MIFARE® Plus EV1 for credentials, ioSmart supports many different card formats, including HID® Prox.
The reader can also be used with any access controller using the Wiegand protocol. To save installation time and money, ioSmart Smart Card Readers can be wired directly to standard door contacts and T.Rex devices. ioSmart Smart Card Readers are available in single-gang or mullion models and can be installed in indoor or outdoor applications.
High Level of Security
ioSmart readers provide end-to-end AES 128-bit encryption between the ioSmart card and ioSmart reader when connected to KT-400 and KT-1 controllers over RS-485 and controllers to EntraPass software over IP.
Intuitive User Experience
ioSmart Smart Card Readers include an intuitive LED status bar that clearly indicates various access conditions to the user. There are also models available with an integrated backlit capacitive keypad for two-factor authentication, combining contactless card presentation with a PIN.
Future-Proof Technology
ioSmart Smart Card Readers are Bluetooth-ready and feature upgradeable field firmware, providing a solution that customers can rely on for long-term performance. Beyond access control, customers can use the ioSmart MIFARE® Plus EV1 card's additional unlocked sectors for third-party applications such as vending, cafeteria, bus/train, and other functions.
ioSmart Cards
ioSmart cards are the new generation of the mainstream MIFARE® classic card, and offer enhanced security contactless smart card functionality. The ioSmart, an NXP MIFARE® EV1 Plus X technology, offers more flexibility to optimise speed and confidentiality. It offers a wide range of features, including proximity checks against relay attacks. MIFARE® EV1 Plus uses Advanced Encryption Standard (AES) for authentication, data integrity protection, and data encryption.
Integrations
Request-to-Exit (REX) Detector
The T.Rex is a sophisticated and cost-effective REX device for all access control applications. It is also a useful alternative to installing an exit button. Outstanding innovations such as X-Y Targeting and Digital Signal Processing (DSP) implementation make the T.Rexone of the fastest and most reliable exit detectors on the market.
Key Features
Zone of detection easily adjustable with pinpoint accuracy
X-Y Targeting targets a specific area of detection
Unlocks or shunts door automatically
Hands-free, no buttons to push
Integrated 90 dB local door alarm sounder independently controlled by access panel
Infrared detection coupled with DSP prevents false "Door Forced Open" alarms
Exit Control Devices
Touch Free Stainless steel Exit Buttons are rugged, touchless switch built with advanced Infrared technology. Ideal for use in sterile environments such as hospitals, food processing plants and clean rooms, the touch free exit button recessed design and stainless steel construction make it easy to clean and sanitise. They are also ideal for buildings used by disabled or elderly people.
Key Features
Brushed Stainless Steel
Infra-Red
Adjustable timer
Flush and surface mount
Adjustable range
Change-over-contacts
Compatible with all access control systems
Card Printing Solutions
Kantech's badging printers produce colourful, durable photo cards. Our printers are simple to use and virtually maintenance free. We have bundled our printers together with a High Definition portable Webcam, ribbon cartridge and cleaning supplies to form a complete badging kit and to keep your printer running like new. Our solutions easily adapt to evolving security and printing needs.
DTC1250e
The DTC1250e provides an ideal card printing solution for small businesses, schools, and local governments that need a simple, reliable, and affordable means of printing and encoding photo ID cards.
DTC4500e
The DTC4500e card printer/encoder is the professional-grade printer that withstands the daily demands of highvolume printing. This printer delivers additional security features such as card encoding and is the ideal printer solution for medium-to-large sized organisations.