Aruba: Proven Wired and Wireless Networks
Aruba has been at the forefront of innovation combining over 18 years of proven wired and wireless network expertise including Aruba AI that can identify anomalies and provide prescriptive recommendations that network administrators can trust. Aruba has repeatedly been recognised by third party analysts as a leader in Wi-Fi, switching, SD-Branch, and a visionary in Data Centre networking. The world's largest companies rely on Aruba to provide a secure, AI-powered edge services platform that spans across campus, branch, data centre, and remote working environments.
The growing use of IoT, the demand for cloud-based services, and business critical mobility are crushing legacy networks. Today's enterprise network must be able to quickly, safely connect new devices and users, and scale to handle the massive data generated at the network edge while providing always-on performance that delights users and helps accelerate business. Critically, the network must also reduce complexity with smart, automated insights to help IT more efficiently operate, manage, and secure the network.
As part of Aruba's Edge Services Platform (ESP), Aruba CX switches play a foundational role in the Unified Infrastructure. Automation, embedded analytics, high availability, and secure segmentation are designed into CX switches with Aruba Central delivering a unified, single view of the network that maximizes operational efficiency across enterprise networks.
Built on cloud-native principles, the CX switch portfolio gives IT the flexibility to deploy a single switch operating system from edge access to the data center that supports intuitive management tools, smart automation, and distributed analytics that transform the IT network operator experience. All with the lasting value and simplified ownership with no switch software licensing and industry leading warranties so you can confidently create a network foundation for the future.
ARUBA'S CX SWITCHING SOLUTION
Aruba simplifies the complexities of managing today's networks with AI-powered automation and policy-driven segmentation. Built from the ground up with a combination of cutting-edge hardware and powerful AOS-CX operating system, our family of switches are designed for today's most demanding enterprise campus, branch, and data center networks.
Based on over 30 years of continuous investment, Aruba's switching ASICs create the basis for unparalleled performance, innovative software feature advancements, and deep network visibility. These programmable ASICs, now in the 7th generation, are purpose-built for a tighter integration of switch hardware and software in campus and data center architectures to maximize network performance and bring new innovations to life more quickly.
Flexible ASIC resources deliver benefits such as high-performance Virtual Output Queuing (VOQ) which optimizes the use of all switch ports by preventing head-of-line blocking, allowing Aruba Network Analytics Engine (NAE) to inspect all data for improved troubleshooting and analytics.
By combining a modern, fully programmable network operating system with NAE, Aruba switches provide industry-leading monitoring and troubleshooting capabilities across the network. Deep visibility with contextual analytics helps simplify network operations, reduces network complexity, and enables faster response times.
THE ARUBA CX ADVANTAGE
A single OS for simplicity
A consistent operator experience, simplified network design, and unified management from edge access to data center.
Unified management
Cloud-based and on-premises management with intuitive workflows and unified views of devices and clients for powerful network visibility, analytics, and control.
Intelligent automation
Smoothly, safely, and quickly coordinate provisioning and changes using smart automation to validate and deploy error-free configurations and reduce manual tasks.
Faster troubleshooting
Real-time, network-wide visibility via distributed, embedded analytics to help prevent, detect, and fix issues before operations and users are impacted.
Always-on performance
Cutting-edge hardware and powerful AOS-CX operating system deliver high availability during live upgrades for the best user experience possible.
Dynamic Segmentation
Unified role-based access and policy enforcement across wired, wireless, and WAN networks of all sizes.
Automated and unified policy enforcement

Leverage automation to enforce consistent role-based policies for users and IoT across wired and Wi-Fi networks. Get real-time traffic separation and security. Meet the needs of IoT with Aruba CX.
Aruba Switch Portfolio
Aruba offers extensive access and core switch portfolio, including both modular and fixed switch types. Below are a few of the series that we tend to use more of. For a complete overview, you can view the Aruba access switch portfolio, and Aruba core portfolio.
Aruba CX 6200 Series
Layer 3 stackable access switches with PoE and 10 Gigabit uplinks.
Aruba CX 6300 Series
Layer 3 stackable access and aggregation switches with Smart Rate and High Power PoE.
Aruba CX 6400 Series
High-availability modular switches for versatile edge access to data center deployments
Aruba WiFi
High-performance, secure enterprise wireless LAN with support for Wi-Fi 6.
Support hybrid workplaces, IoT, and rising user expectations All without compromising security, reliability, or performance.
Features Wi-Fi 6 and Wi-Fi 6E certification and interoperability with previous generations of Wi-Fi..
Delivers improved performance and capacity and greater AIOps visibility across all users and devices.
Ease of cloud-managed networking
Improve efficiency, scalability, and reliability using Aruba ESP and Aruba Central. With cloud-native, centralized management, IT gains visibility across wired, wireless, and WAN architectures using a single pane of glass.

AI-powered network operations
Increase the efficiency and effectiveness of network operations with AIOps. Aruba AIOps applies machine learning to proactively identify issues, recommend corrective actions, and provide service assurance.
Security for the Intelligent Edge
Aruba's Zero Trust Security model reduces risk with role-based policy enforcement firewalls and dynamic segmentation. Support for Wi-Fi 6 standards provides better user and guest encryption.
Aruba gateways and controllers
High-performance network access, security, and resiliency for the campus and branch across WLAN, LAN, and SD-WAN.
Aruba controllers and gateways deliver high-performance traffic and data routing, Dynamic Segmentation, role-based access, and more.
Zero Trust Security
Aruba Policy Enforcement Firewall is the only user/device-facing firewall providing a zero trust boundary at the point of network access, with real-time role-based access control and deep packet inspection.
Unified, secure network access
Aruba Dynamic Segmentation unifies policy enforcement across wired, wireless, and WAN to securely connect and keep traffic separate and secure for all types of users and devices – using centralized or distributed policy enforcement approaches.

Enterprise-class performance
ArubaOS for gateways is engineered for mission-critical environments that need high performance, seamless roaming, 24/7 reliability, and always-on connectivity – even during upgrades.
Aruba Instant Mode
Aruba access points (APs) in Instant Mode offer enterprise-class performance and features with simplicity and affordability. The same ArubaOS feature set available when using Aruba Mobility Controllers and Gateways now provides IT with the same role-based access controls and AI-powered RF optimization features, without the added hardware and cost.
Aruba Instant Mode delivers full feature access without any additional licensing. It also provides free access to new software releases for the lifecycle of the hardware.
In a cluster, Aruba APs in Instant Mode elect a single AP (or parent) within the group to act as a virtual controller for the entire cluster. This makes it easy to perform configuration changes on one device and push the change to all APs. If connectivity is lost to the parent, the election process will instantly choose another AP to take over – ensuring seamless network access.
Key Benefits of Aruba Instant Mode
Available on all Aruba AP platforms
Policy Enforcement Firewall, a Cyber Catalyst designated solution
Patented ClientMatch technology
Local RADIUS server option
Choice of local, cloud and on-premises management
Zero Touch Provisioning
Simple Wi-Fi Management with Choices 
Local management
The built-in GUI provides access to live monitoring and traffic visibility, while network configuration provides full customization of SSIDs, roles, guest access, and more. For extended historical reporting, Aruba Central can be added.
Aruba Central
Aruba Central, is a cloud-based AI-powered operations, analytics, and security platform for APs deployed in one or multiple locations. Centralized configuration and monitoring, and advanced troubleshooting and API integration are also provided. Aruba Central also supports Aruba switches and SD-WAN gateways, and offers access to AI-powered analytics for fast troubleshooting.
Aruba wireless access points
Boost IT, user, and IoT experiences with enterprise connectivity that's simple, fast, and secure.
When performance and simplicity matter, Aruba APs support AI capabilities, the latest Wi-Fi 6 standards, and multiple form factors for deployment in any environment. Ruggedized models also support extreme temperature and humidity requirements.
Aruba outdoor APs provide seamless connectivity for large public venues, as well as pop-up sites and loading docks. Point-to-point wireless options provide Wi-Fi mesh backhaul and 60GHz speed to adjacent buildings.
Cover your bases
Aruba Wi-Fi 5 and Wi-Fi 6 APs include enterprise, branch, plug-and-play for remote workers, outdoor, and hardened versions for a wide-range of use cases and price points.

Simplify network operations
Built-in network intelligence supports advanced capabilities like AI-powered RF optimization, dynamic segmentation, service assurance, and smart management options for improved IT and user experiences.
Secure the network
WPA3 and Enhanced Open improve user and guest encryption, while PEF uses role-based access control and DPI to isolate and segment traffic. Aruba ESP enables Zero Trust Network Security for devices and IoT.
Aruba Internal AP Portfolio
Aruba brings some of the latest advancements in wireless technology to their portfolio including OFDMA, MU-MIMO and TWT to maximise networking capabilities, as well as their patented Aruba Client Match. Client Match continually monitors a client's RF neighborhood to provide ongoing client bandsteering and load balancing, and enhanced AP reassignment for roaming mobile clients resolving stock client issues and providing improved performance.
650 Series (WiFi 6E)
Indoor, tri-radio, 2.4GHz, 5GHz and 6GHz (concurrent) 802.11ax 4×4 MIMO.
Aruba's most powerful Wi-Fi 6E indoor access point
Up to 7.8 Gbps combined peak datarate
High availability with configurable 5 Gbps dual Ethernet ports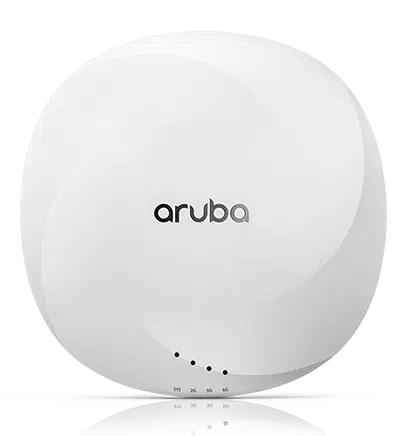 630 Series (WiFi 6E)
Indoor, tri radio, 2.4GHz, 5GHz and 6GHz (concurrent) 802.11ax 2×2 MIMO.
High-capacity Wi-Fi 6E access point
Up to 3.9 Gbps combined peak datarate
Up to seven 160 MHz channels in 6 GHz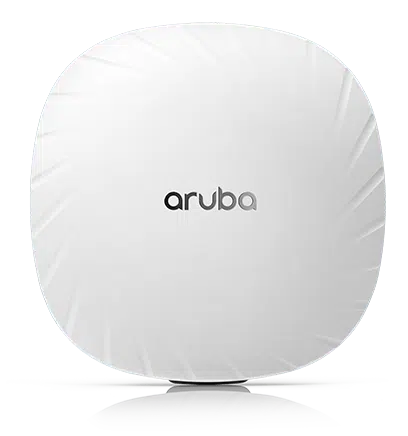 550 Series (WiFi 6)
Indoor, dual/tri-radio, 5GHz and 2.4GHz 802.11ax 4×4 MIMO.
Flagship Wi-Fi 6 campus access point
Ideal for extreme-density mobile and IoT environments
Support for 8×8 or dual 4×4 5Ghz radios
530 Series (WiFi 6)
Indoor, dual radio, 5GHz and 2.4GHz 802.11ax 4×4 MIMO
High-performance Wi-Fi 6 campus access point
Ideal for high-density mobile and IoT deployments
Support for bi-directional MU-MIMO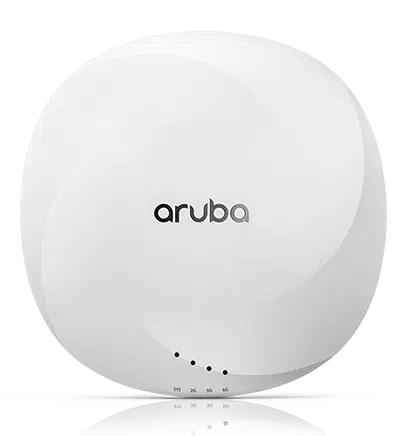 510 Series (WiFi 6)
Indoor, dual radio, 5GHz 802.11ax 4×4 MIMO and 2.4GHz 802.11ax 2×2 MIMO
Mid-range Wi-Fi 6 campus access point
2.5 Gbps Smart Rate port
Ideal for campus deployments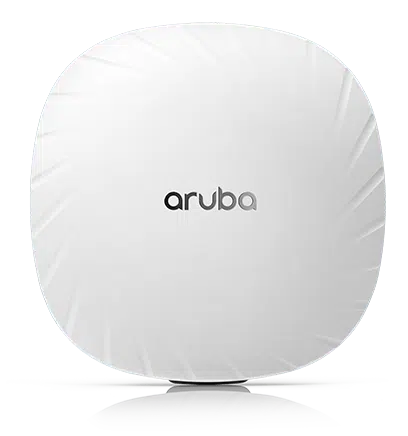 500 Series (WiFi 6)
Indoor, dual radio, 5GHz and 2.4GHz 802.11ax 2×2 MIMO
Entry-level Wi-Fi 6 campus access point
Full-feature support with 802.3af PoE
Ideal for medium-density deployments
Aruba External AP Portfolio
Aruba's outdoor AP portfolio is purpose build to take on the challenges of the outdoors. Their fully sealed access points are built to withstand extreme variations in temperature and persistent moisture and precipitation. Plus, they're proofed against water, dust, and humidity.
All APs also available in 'EX' versions which are HazLoc Class 1 Division 2, ATEX Zone 2, and IP66 certified for hazardous locations.
580 Series (WiFi 6)
Outdoor Hardened, Wi-Fi 6 dual radio, 5GHz and 2.4GHz 802.11ax 4×4 MIMO
Ultimate outdoor Wi-Fi 6 performance and speed
Bluetooth and 802.15.4/Zigbee radios with high power
Dual redundant power/port failover and support for AC
570 Series (WiFi 6)
Outdoor Hardened, Wi-Fi 6 dual radio, 5 GHz 4×4 MIMO and 2.4 GHz 2×2 MIMO
High-performance Wi-Fi 6 outdoor access point
Built-in BLE and Zigbee support
Ideal for high-density outdoor environments
560 Series (WiFi 6)
Outdoor Hardened, Wi-Fi 6 dual radio, 5 GHz 2×2 MIMO and 2.4 GHz 2×2 MIMO
Low-cost Wi-Fi 6 outdoor access point
Small form factor for maximum flexibility
Ideal for outdoor and warehouse environments
Aruba Central
Aruba's cloud-based networking solution with AI-powered insights, workflow automation, and edge-to-cloud security that empowers IT to manage and optimize campus, branch, remote, data center, and IoT networks from one dashboard.
Manage any-sized network from the cloud
Built on a cloud-native, microservices architecture, Aruba Central is an AI-powered solution that simplifies IT operations, improves agility, and reduces costs by unifying management of all network infrastructure.
Streamline operations
Simplify how you provision, configure, and maintain networks by orchestrating all operations from a cloud-native dashboard. Aruba Central is your single point of visibility and control that spans the entire network – from branch to data center, wired and wireless LAN to WAN.
Optimize networks with AIOps
Surface and resolve issues before users ever notice them. AI-powered insights, self-healing workflows, and prescriptive optimization tips help solve problems up to 90% faster, so the network keeps business running at peak levels.
Stronger security, minus the complexity
Replace static VLANs and ACLs with intent-based policy automation and orchestration, intuitive access controls, and AI-based discovery and profiling of all connected clients. Gain the core elements of Zero Trust and SASE architectures while ensuring users have fast, secure access no matter how or where they connect.
Deploy and consume your way
Deploy Aruba Central as a SaaS application, or select from on-prem or managed service options. Choose from flexible subscription terms and options such as delayed activation and co-termination to address networking requirements within existing budgets and project timelines.